The season of love is approaching but you have been too occupied to think about gifts for your beloved. Are you thinking of rushing it at the last minute? Please don't. There's nothing that should stop you from showing him your utmost appreciation, not even a busy job with packed schedules. However, you have come to the right place. We have prepared a list of unique ideas for you. Let's check it out!
Romantic Valentine's Gifts That Might Even Make Him Tear Up
Because they are all customized with nothing but your love and memory. These gifts are the perfect fit for cheesy lovers!
Isn't it adorable to have something that reminds him of you every time he opens his wallet? These love notes are made of stainless steel so they will be very lightweight yet durable. The quote is customized so it guarantees the uniqueness of the gift.
---
The perfect gift for him, we dare say! The booklet has many sections for adorable coupons, pictures, stories, and memories. Let him know exactly how much he means to you and how dearly you cherish every moment you two have experienced together.
---
Today, we are fed up with SMS and messages and emails, a handwritten piece will be a refreshing breeze for romantic souls. Inside each capsule is a blank note for you to fill with love. Be creative with your sweet lines and order this lovely present right away!
---
Some couples like to have their childish moments and bicker over little things. The "I love you the most. The end. I win" line would make your beloved grin due to its sassy yet loving vibe.
---
Promises matter to couples who are experiencing a long-distance relationship and a two-piece pair of pendants will solidify them for you. Geographic distance means nothing when he always carries a part of your heart with him and vice versa!
---
Don't we all love to learn more about our special other more and more every day? This notebook has a variety of questions and enough space for both of you to write your responses. It's gonna be a precious journey for a long-lasting relationship.
---
This witty book offers meaningful illustrations and prompts for you to enhance with your personal touch. You won't need more than a couple of hours to fill them all out and complete a one-of-a-kind gift that he will hold dearly to his heart for years.
---
Is your beloved fond of simplicity and willing to be patient for the best outcome? Give him a magical seed and wait for it to grow as big as the smile on his face when he receives the message from you.
---
If your man has a sweet tooth, he will enjoy the two-pound milk chocolate from Hershey's. The surprise is when he manages to finish the shell and finds out the bundle of normal-sized kisses.
---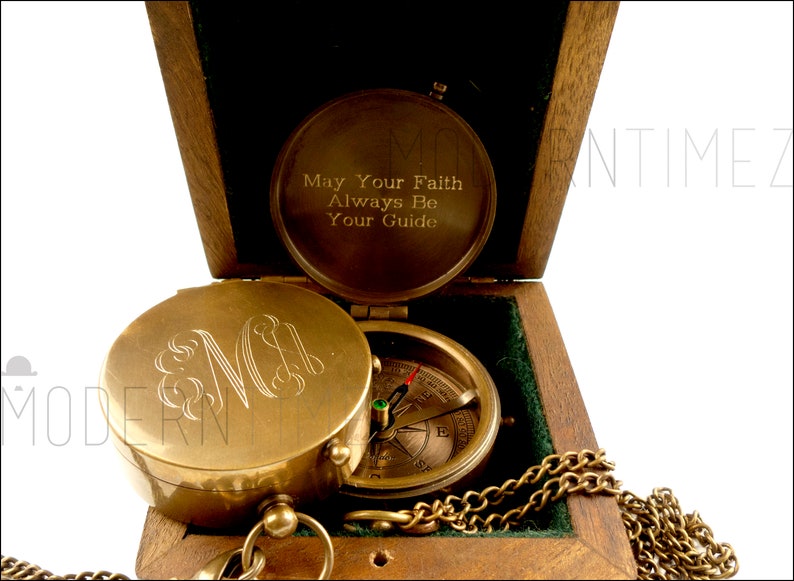 A compass holds the longing call for your beloved to come home and the prayer for him to never lose his way on the long journey; therefore, it makes the impeccable gift for Valentine's. A bonus point is you are able to personalize this compass with your own words.
---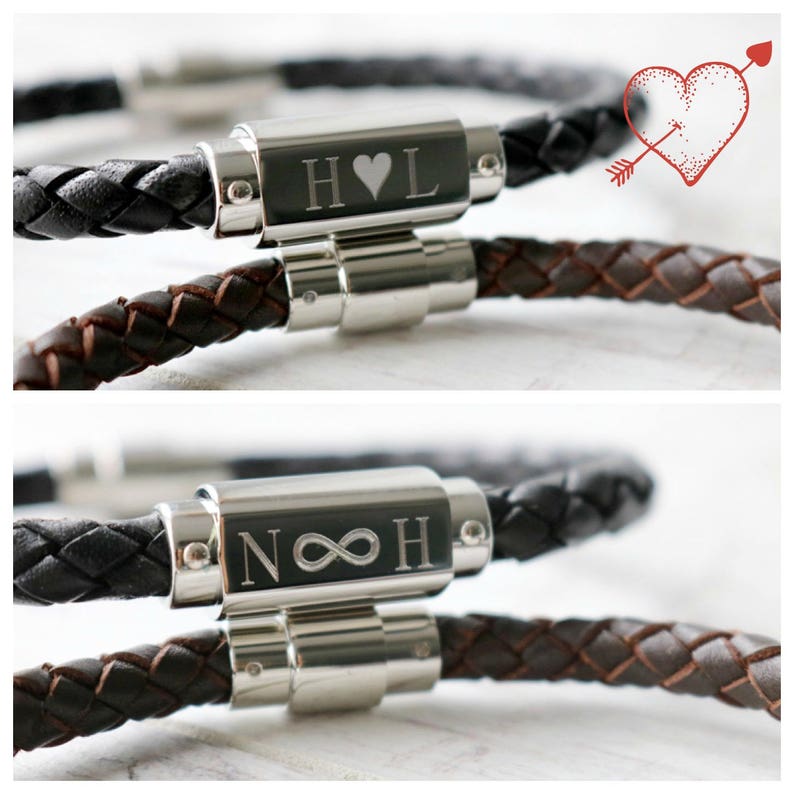 All you have to do is measuring the wrists carefully and the craftsmen will take care of the rest. The leather and the stainless steel assures durability while the personal initials for carving add a touch of luxury to it.
---
The night sky never fails to amaze us with the enigmatic yet romantic vibes so why don't we make a special moment unforgettable by recreating how the sky is like in terms of time and location? It sounds as if you two have found your very own universe!
---
You have given your heart to him, figuratively. Wouldn't it be cute to express it through a print with vivid colors? There are many other artworks available if you want it to be different.
---
This might mean a treasure for someone who is leaving soon or currently living far away. It can also act as a reminder of the memorable milestones you two have achieved together. The reversed side is available for customizing with your own message!
---
Remember the old days where films are projected on the wall? Yes, it's here! You can have your own love note carved into a wooden box now. Put the candle included in the package inside it and turn off all lights to see the magic. High chances are he will be very astonished!
---
Handwritten love letters are a classic of all times, no doubt about that. This book contains many prompts for you to write down all your thoughts and keep them in a collection before sealing it with a kiss and giving it to your other half.
---
Practical Valentine's Gifts for Him
Things he can actually use every day while thinking about you!
If you think a seemingly serious gift won't be the best choice for your boyfriend who loves to joke around, be witty and playful? The high-quality product also suits daily use, all healthy and safe.
---
When it comes to Valentine's Day gifts, couple items are never outdated, especially couple shirts with matching symbols. If you are unable to design something of your own, this is a decent choice!
---
The gift set has everything necessary for an occasion like Valentine's Day. A wine aerator, a glass, a beautiful rose, a kiss from Hershey's, and a sweet message. What will be better for a romantic night date?
---
No distance is too long if you are constantly reminded of each other. Give him a gift of comfort and support, mentally and physically, to seal your promise even when you are away.
---
The humorous coffee mug will bring a smile to whoever receives it by the sheepish hint of love and hope. Not to mention, it's on the high-quality side, microwave and dishwasher safe. It will last as long as your lifetime relationship does!
---
A pocket knife is useful in daily life and men really dig these kinds of items. You can personalize the gift by engraving his name on the tilt for a unique touch too!
---
When it comes to your special man, cologne is always a choice. The classic Swiss Army eau de toilette contains citrus and lavender fragrances plus spicy-sweet woods – a perfect item if you are seeking elegance instead of fun and cuteness.
---
A creation of exquisite minimalism. You can customize it with a name or a message which will be embossed intricately. Nostalgia is always pleasant, isn't it?
---
This mug is made thoroughly from real oak wood and by the craftsman's clever hands. It can be used for beer as well as other beverages, hot or cold. And it has a masculine touch that your man will adore.
---
Is he into vintage style? Are you thinking those items are difficult to find nowadays? Worry not! The USB designed to be a cassette tape will fulfill all your requirements. It will be with him when he is on a long ride or busy with work even. You know how convenient a USB is!
---
Making breakfast can be a struggle for a lot of people but you can save your man from so much trouble with this intelligent sandwich maker. You only need to put the ingredients into their exclusive slots and boom! The way to a man's heart is through his stomach, after all.
---
Every man needs to look sleek once in a while, even more so if he is working in the office. Keeping him sharply dressed is the duty of the perfect woman in his life, right?
---
Does your man have a beard? Or is he planning to grow one? The kit consists of beard shampoo, conditioner, oil, balm, brush, comb, scissors, shaving tool – anything you can think of, really.
---
If your boyfriend usually travels or goes on business trips, this will make a perfect gift for him on Valentine's Day. Thoughtful and practical – what else do you need to steal a man's heart?
---
Fantasy doesn't mean childish and there's nothing wrong if your man is interested in magical creatures. The Dragon Stapler is both manly and useful, not to mention it will make his desk lively. No one will dare judge such a fearsome article!
---
Funny Gifts for Him on Valentine's
For humorous and witty couples who never cease to make each other laugh!
We gotta spice things up in the bedroom when the time calls for it and these sexy vouchers will help you out. There are also blank notes for you guys to either tend to each other's desires or let your imagination run wild. It will be an unforgettable memory for him!
---
Are you planning a party for Valentine's Day for him? Don't overlook elegant and romantic decorations! He will love this stunning impact of many "I love You" prints floating around. 
---
A lovely gift for him who enjoys sweet surprises. Outside, it resembles a common gift box but once opened, it will reveal multiple layers of cards and photos. The package also includes stickers, ribbons, dry flowers!
---
Boyfriends love it when you go extra miles and act a little possessive. These undies are great to start off a night, fun or sexy. They won't shrink, nor their waistband will pinch or bind.
---
Valentine's Day is the right occasion for you to confess some steamy secrets and perhaps carry on to the bedroom. This game is provocative and sensual without lacking fun and comfort – an inspiration for many passionate nights to come.
---
Whether you two are a young couple or a married pair, the collection of romantic coupons is an irresistible option. Each coupon presents an activity for the couple to experience and ensures various memories.
---
If you are only searching for heartfelt and special ways to deliver your love notes without doing anything too extravagant, consider this a choice! It is also a great addition if you have planned a gift basket and want an emphasis.
---
The shirt is made of fine ring-spun cotton, hence it will feel comfortable and soft for years on end. Through this, you can show how thankful you are for having him. A bit of appreciation is always nice.
---
Colorful socks and delicious slices of pizza in one? The pizza socks box is funny and witty! He will grin ear-to-ear upon lifting the lid and trying the socks on. Surprises are always nice.
---
Decorative Valentine's Gifts for Him
It is not only gorgeous when he unpacks the gifts but it will have a fixed position in your house.
These candles run by batteries but they can ignite a romantic mood with how gorgeous they look. Turn off the lights and relax in their magical rays of light, you will see how his face brightens up in elatedness.
---
The cream-colored fabric gives it a soft and endearing appearance. It's actually good for any occasion that you want to celebrate with a compatible song lyrics!
---
With 10 characters available in length and numerous colors for a wide range of options, you have all the space you need for expressing your love and style! The battery system allows you to put the lamp anywhere you deem suitable.
---
It features a miniature of two lovers under the warm moonlight and it will be even more pleasant to look at when all lights are off. In addition, you might sign or write on the moon surface for a more sentimental feel.
---
DIY Gifts for Him
If you are not into purchasing gifts from stores, might as well put those deft hands to good use?
Do you want to try something different and challenge your crafting skills? It's very simple to make but extremely adorable as either gifts or decorations!
Project Credit: Soohub Blog
---
It's been known that men prefer practical things they can utilize daily. Touch, smell, taste, sound, and sight – these gifts will cater to his senses and, of course, attack his heart in the sweetest way. Check out the compilation and choose the best for your boyfriend!
Project Credit: Oh Clary
---
A touching message to remind him how deeply you care and need him with you. Moreover, it's a versatile gift that you can give him any time, not only on special occasions.
Project Credit: Big Beryl
---
A small bottle, a tiny picture, a needle, some yarn, and scissors – and you're ready to delve into this simple tutorial for a vintage-styled and lovely gift.  
Project Credit: Snowman Crafts
---
Ticket Stub Memory Box
Ticket stubs are the memento of special events but not everyone knows how to keep them in an aesthetic way. Here's a creative way to solve the dilemma. You can hang or put them to use, and your memories won't ever disappear.
Project Credit: The Thinking Closet
---
Vintage Photo Mason Jar
Put a black-and-white photo of yours into a mason jar filled with vegetable oils. The oil secures the picture and gives it an aged yet still glowing effect.
Project Credit: Disha Doshi
And… that's it! Choosing gifts has never been a simple task and it's even more challenging when your recipient is a man. We hope you have had some ideas for your Valentine's gifts after going through our list! Happy Valentine's!