Four years have passed and your baby will become more and more curious from now on. Creativity, education, entertainment, kindness – you would want them to achieve all of that. So, what will be the best gifts for 4-year-old kids? How do you find the best for your child? Understand them, know what they are into, and guide them to the best paths. With 4-year-old children, we might start seeing the potential and the tendency in them. We have picked out 50 interesting presents from thousands of products out there. Let's check them out!
---
Gifts for 4-year-old Creativity
We can't deny that maintaining and enhancing children's creativity is a task every parent tries to accomplish. If you're willing to invest, you will be surprised by the things your little one is capable of: drawing more detailed pictures, recording their singing, or crafting things from paper.
#1. Drawing Stencils Set for Kids
The set includes everything our little artists need: large stencils, paper, color pencils, sharpener, pen, and a beautiful case to carry them all. It's always ready to go on adventures with your child and open the door to creativity right before their eyes.
---
#2. Hide & Seek Rock Painting Kit
Introduce your kid to the art of painting rocks with unique patterns! The kit is great for children and beginners, both brush and waterproof paint included. They can hide the cute rocks for a seeking game, making it much more fun. Imagine the surprised faces when they finally find the gifts!
---
#3. Water Drawing Mat (Mess-free)
Are you worried that the toddler might mess your desk or bedsheets up while they practice drawing? How about a mat for them draw on? For this magical mat to work, you only need to fill their special pen with water. After a few minutes, the strokes will disappear, and the canvas is brand new again.
---
#4. Piano Key Play Mat
An instrument your little musician can stomp on! The playmat features 8 instruments (piano, saxophone, guitar, trumpet, banjo, xylophone, clarinet, violin) and 4 modes (record, playback, demo, play). 24 sensitive keys are more than enough for the baby to have fun for hours on end.
---
#5. Karaoke Microphone
Fake microphones are outdated now, and we don't do that here! If you are looking for a toy with practical design, this stylish microphone is for you. It has a high-quality Bluetooth module (used as speaker, recorder, and player) for many singing applications and professional audio processors for the best outcome.
---
#6. Scratch Art Box of Rainbow Mini Notes
By now, your child is probably clever enough to learn Origami and fold simple shapes by themselves. First of all, they need to scratch the matte coating to reveal the color beneath. Then, with a box full of colorful notes, they can create adorable illustrations and surprising notes, craft projects, and express their unique mind.
---
Educational and Puzzle Gifts for 4-year-old Kids
As the category's name suggests, these gifts include tools and products that will help the babies learn more about the world around them and prepare for primary school.
#7. Scout and Violet 100 Words Book
At the age of four, children still have a lot to learn so as to improve their vocabulary. The experts have chosen 100 words that are appropriate for pre-school kids, divided into many fields: vehicle, clothes, color, animal, activity, and more. This book also features both English and Japanese for a bilingual experience.
---
#8. Alphabet and Number Set
Featuring flashcards, wooden jigsaw puzzles, and pegboard, the set promises many educational yet fun methods to introduce your child to letters and numbers. Along the way, they will also learn about colors and improve their skills. By giving them a starter filled with joy, you are guaranteeing them a long term studying career.
---
#9. Building Blocks Set – Construction & Engineering
These STEM supported blocks will enhance your child's skills in Math, Engineering, Technology, Science all at once. With 101 pieces, their imagination will soar high as they attempt to design their very own trucks, helicopters, robots, and even transformers. It will keep the baby entertained for hours.
---
#10. Magnetic Building Blocks
Magnetic blocks mean they can connect and attach to each other easily. With their rainbow colors and various shapes, they will steal children's attention and keep them busy for a good while. Aside from the suggestions in the booklet, the little ones can create more unique designs as well. And they have such smooth edges to assure safety.
---
#11. Glowing Tiles Set
Normally, the tiles have an opaque color. In the dark, they glow like magical and mysterious stars. The little ones can create whichever objects and shapes they want. And there's more than that! You can also write secret little messages, which only reveal under the special LED light.
---
#12."Ready, Set, School!" Craft Kit
This kit will be a great preparation for school. The baby can practice cutting paper, tying their shoe, writing the first alphabet letters with wipe-away books, markers, crayons, scissors, stencils, activity pages, stickers, shoelaces. Let's make their first steps in learning fun and interesting!
---
Best Games for 4-year-old Pretend Play
Here come the toy sets that evoke and stir the imagination inside of the children. By acting like people who do good deeds to the society, they will also learn so much about kindness.
---
#13. Scribble Scrubbie Pets Scrub Tub Animal Toy Set
Teaching children about kindness is something every parent aspires to do. What's a better way to nurture a loving soul than letting the baby learn how to take good care of others, starting from washing these tiny animal figures?
---
#14. Sizzle and Serve Grill Kitchen Playset
When it comes to toys, cooking sets are incredibly famous, and this product is an example. Including a realistically designed grill pan and all necessary accessories (hamburger, hotdog, sauce tube), the set is perfect for toddlers' creative and imaginative play.
---
#15. Wooden Scoop & Serve Ice Cream Counter
Kids love ice cream, and they will be happy running their own shop! The counter displays cones, tongs, scoopers, toppings, and more. We promise endless imaginative playtimes and creativity enhancement as your child acts like a shop owner and decorate mouth-watering treats.
---
#16. Doctor Kit for Kids
Little ones will eagerly ask everyone to sit down and have a check-up! Other than teaching them about the human body, the kit improves their imagination and social skills through doctor-patient role-playing games. They won't get bored with these 12 medical tools and gadgets anytime soon!
---
#17. Deluxe Headquarters Playset
Looking for something super fun? The PJ Masks Headquarters Playset will be a blast! The most special features must be the 3-inch Catboy and the working elevator inside the building. With realistic noises and lights, it will help the babies create numerous adventures.
---
#18. Ultimate Corner Play Kitchen
You will need a whole corner for this playset but it's not gonna disappoint. In their own corner, the baby will have a speckled granite countertop, a sink with a faucet and a tap, and – of course – kitchen equipment (freezer, oven, microwave, and more). Needless to say, it will bring nonpareil creativeness and imagination.
---
#19. Happy Home Playhouse
We can all agree that children always love to own a private corner, and the playhouse will give them exactly what they want. In the adorable house, the little ones can enjoy their personal space with a kitchenette, fireplace, wall clock, and a fun phone. They even have a doorbell and a mail slot!
---
#20. Inflatable Jump & Slide Bounce House
Children will never say no to some bouncy fun! The product comes with 4 blower and 6 bouncer stakes to anchor the house in place, 1 heavy-duty blower to keep the air flowing, 4 repair patches, and a storage bag.
---
Best Toys for 4-year-old Kids
Time to have fun! The toys listed below are for fun and fun only!
#21. My First Foam Pogo Jumper
By now, your child is ready for some bouncy fun, so why not give them a foam pogo stick? It improves their balance and motor skills immensely. This stick will last for a long time and assure the little one hours of fun with safety.
---
#22. Outdoor Explorer Kit
You feel like your child is spending too much time indoor and want to take them on trips more often? You would love this kit, and they would be very eager to try the cleverly made tools. Binoculars, flashlight, whistle, butterfly net, bug container, backpack, and so much more. Learning how to read a map and determine the basic directions will do great changes to their intelligence.
---
#23. Magnetic Wooden Fishing Game
If you're searching for a game that you and the child can play together, the wooden fishing set will meet all your requirements. You can start mini-games to improve the baby's skill, catching the fishes of a specific color or fishing a number of fishes, for example. Depending on how you play, the toy set can be very helpful.
---
#24. Wooden Ship Plate
Your baby will have the happiest meal on their ship! Not a gigantic ship, but a small and adorable one. The crafted ship will also be a good decoration for your kitchen or even the child's bedroom. The only type of food you should be careful with while serving is extremely hot food.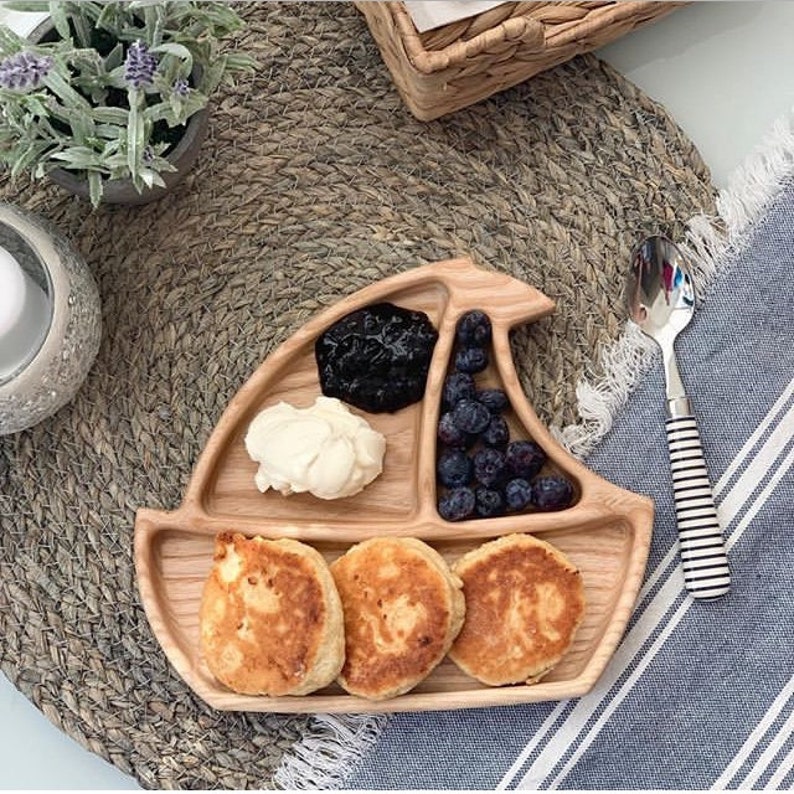 ---
#25. Steam Train Locomotive with Bubble Blowing Bump
Choo Choo! This steam train locomotive comes with noise and light like a real train does, and the toddler will be very excited to play with it. But that's not all. With a bump installed inside, the locomotive will blow big bubbles during its journey!
---
#26. Indoor Snowball Fight
Snowball fights are so much fun, but not all parents will agree to have their children outdoor during cold winter days. And not all countries have snow. You can grant their wish with these snowballs now! They are made from soft materials and not going to make a mess in the house!
---
#27. The Incredibles Action Figures
Who doesn't know Mr. Incredible, his wife – Elastic Girl, and their children – Violet, Dash, Jack-Jack? Little fans of the superman family would love to play with the intricate figures or put them on their desk and bookshelf for a witty ornament.
---
Gifts for 4-year-old Boys
By now, the boys begin to have hobbies and interests, which are different from what the girls are mostly into. Big and strong animals, superheroes, sports; we will give them all of that!
#28. Dinosaur World Playset
Jurassic Park and the giant dinosaurs have been a part of our childhood, and it's still charming many little hearts these days. The carpet mimics a cartoon dinosaur park with vibrant colors and has enough space for 2 – 4 children to play together. With the intricate dinosaur figurines, your baby can stay in their room and still have some creative fun.
---
#29. Construction Worker Role Play Set
Purchase one for a bunch! Your baby boy will have his hammer, saw, pliers, screwdriver along with a full costume set. It will inspire the child to engage himself in realistic imagination play, life skills (educational thinking, problem-solving, shape recognition), and communication ability.
---
---
#30. Super Sounds Soccer
Why not guide your baby boy to soccer – the king of all sports? The game set is good for 1 or 2 players, which means he will have a fun time training his motor skill and sports ability while being competitive and socializing with his opponent. It also features a difficult level for more advanced players.
---
#31. Toy Truck Carrier Car
The boy will adore this cool container because it looks so cool with the black paint and the strong appearance, but the 6 racing cars and the construction facilities will steal his little hearts! Aside from that, it has a handle on the top so the baby can bring it with them everywhere.
---
#32. Dinosaur Eggs Excavation Kit
How about an Easter gift? Many boys are infatuated by dinosaurs, and a change in the traditional Easter eggs will give them delight! They can go on an adventure to dig the eggs up like a real archaeologist and find the right card to read about the dinosaur they get from each egg. It's a good practice for hand-on ability, cultivated patience, and observation.
---
---
#33. Smart Robot Toy
Have you ever thought about giving your child a new friend, one that will induce him to play interactively, instead of entertaining him with mere video games? He can operate the robot by touching the sensory buttons or speak to it, ensuring fun playtimes.
---
#34. Grow to Pro Basketball
Let your baby grow up healthy and strong with the best basketball toy ever! With 4 positions for you to adjust the height, the item can be either inside your house or outside in the garden. If you worry about it toppling over, we're glad to introduce the sturdy base to you. You can also fill it up with sand or water for more weight.
---
#35. Spider-Man Figure
One of the most popular superheroes from Marvel and children love him. This lively 25-inch figure will be a great present. It's crafted with cleverness and intricacy, many points of articulation promising interesting playtimes.
---
Gifts for 4-year-old Girls
Lovely, sparkly, joyful, and beautiful – these presents will be a sweet delight for your baby girl, promoting their sense of colors and fashion, socializing skills, and imagination.
#36. Disney Princess Necklace Set
The necklace set will effortlessly satisfy every baby's love for Disney princesses! They will get a silicone string and beads to slide through. The arrangement of colors is up to them, which is a boost to their creativeness as well.
---
#37. Flower Garden Building
A perfect present for a nature lover. The pieces of this set are in bright colors that stimulate visual sense and cognizance. The girls can organize their garden however they like it! The watering pot may induce them to create more ways to play or tell stories.
---
#38. Wooden Jewelry Box
Children are always attracted to treasure chests because of the adventurous and mysterious senses. With 26 gem stickers, 38 foil stickers, 3 glitter and white glues, a velvet ring holder, and a safety mirror, the beautiful box will be an ultimate favorite in the baby's toy box for days.
---
#39. Cooking & Baking Set
A perfect cooking kit for little girls and their role-playing game! They will look extremely adorable with the chef hat and apron, as well as the fully functional utensils and the lovely cookbook. The babies can even help their parents in the kitchen with their realistic yet safety-ensured tools.
---
#40. Jewel Rings in Box
The box includes 24 rings that will have your little princess fascinated. The designs are based on sunflower, butterfly, and fake gems. They will shine on her tiny pretty fingers and bring the happiest smile to her dainty face.
---
#41. Pretend Play Purse
With a full set of a credit card, hairbrush, car keys, smartphone, cosmetics, it's an outstanding choice of gift for our baby ladies. Moreover, the phone and the key make real sounds and lights, and all items are completely safe for the children to have fun with their imagination.
---
#42. Fairytale Dress Up
No one will deny how popular Barbie is for little girls, and the babies really can spend hours dressing Barbie up and playing with the doll. The set contains 3 outfits of princess, mermaid, fairy, and all of them are so beautiful with bright colors and lovely accessories.
---
#Best Books for 4-year-old Kids
Books are irreplaceable, whether you are old or young. For children, they are even more important. Give your beloved baby one of these best-selling books and nurture their souls.
---
#43. The Wonderful Things You Will Be – by Emily Winfield Merlin
It's a modern take on "Oh the Place You Will Go". The author, Emily, wrote and illustrated the book by herself in a distinctive and beautiful style. You can call it a love letter from parents to their little angel, expressed through their imagination on the things she might become.
---
Little Blue Truck is a meaningful story about kindness. It tells the story of a friendly truck that welcomes all animal residents in the town. And when the truck is stuck in the mud, the grateful friends come to his rescue without hesitation.
---
A famous bedtime story about a little bunny who is tucked away in bed and now saying goodnight to the familiar things in its dimly lit room. The poetry and the illustration share a tranquil and gentle style that makes this book a classic piece after many generations of readers.
---
#46. Press Here – by Herve Tullet
Do you think books can't be as interactive as hi-tech devices? This book will prove you wrong! It's one of the most unique pieces, including instructions for you to press, tilt, or shake the book. And something magical will show up on the next page!
---
---
Is your baby a huge fan of Moana – the popular Disney cartoon in recent years? The book will be their top favorite, as it retells the journey with enormous sea creatures, glamorous underworlds, and ancient folklores through expressive pictures.
---
#48. I Am a Big Sister! – by Caroline Jayne Church
If your baby girl a sister, or is going to be a big sister, this adorable guide on how to be a great sister will create a bond between the two siblings. There won't be anything sweeter than the sight of her repeating the words to her little brother or sister.
---
#49. Letters to My Baby – by Lea Redmond
Imagine, if you receive the prompt "My wishes for you are…", what will you write for your baby? The set includes 12 letters with different prompts like that, and you can pour your love into words for precious keepsakes.
---
#50. Harold and the Purple Crayon – by Crockett Johnson
The story is about a boy named Harold who owns a purple crayon and uses it to create his world. What will his creation look like? It's full of surprises, and that's why it's been around for more than 60 years. We will be in awe at how powerful imagination can be.
---
That was our list of best gifts for 4-year-old kids. As usual, if you have more specific and tricky requests for your present, don't hesitate to leave us a question!